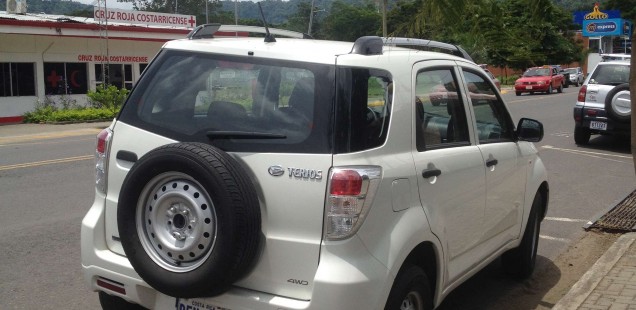 Renting a car in Costa Rica
Renting a car in any country with which you are not familiar can be a daunting task. Renting one in Costa Rica is especially complicated and expensive. Whether you need a car at all completely depends on your agenda. Can someone visiting or even living here get by without a vehicle? Absolutely. Both visitors and residents successfully rely on busses and taxis every day. If, however, you want to explore the country in full, arguably the best way to do it is with your own vehicle.
One of the first factors to consider is whether you are capable of driving here. I don't mean whether you have a driver's license. If you have one from your own country, that's good enough to rent a car. I mean, do you have the resolve, patience, and skill to tackle the roads? There are crocodiles, snakes, sharks, and rip currents in Costa Rica. But the roads are more dangerous than all of those things combined.
Costa Rica's gas prices are high (about $5.15 per gallon as of today) due in part to the 29% gas tax that is allegedly earmarked for road repair and maintenance. Yet, Costa Rican roads are ranked as some of the poorest in the world. Despite its ranking for having the worst roads in Central America, not all of them are bad. In fact, the relatively new road from San Jose to Jaco is nicely paved. From Jaco, you can continue South on the Costanera Sur all the way to Panama. Even the paved roads here, however, present challenges.
In doing research for our sabbatical, my wife stumbled upon numerous sources that stressed how hazardous the roads were. Based on the fact that I have been on my share of perilous roads in the U.S. and in other countries, I thought people were either exaggerating the severity or simply knew nothing other than U.S. style highways. I couldn't get a satisfactory answer as to exactly what made them so dangerous. After having driven them myself, let me elaborate on a few of those hazards.
Like all large cities, the San Jose area is congested with a lot of vehicles. Motorcycles, scooters, and mopeds zoom in and out of lanes passing on the right and the left. Traffic snarls are common. If you are in a wreck, you are warned not to move your car until the traffic police arrive and instruct you accordingly. What this means is that when there is a fender bender (which is not uncommon), traffic gets even worse since the vehicles stay put.
Another challenge is the general lack of signage. Even in cities, roads might not have names or be clearly marked. If a road does happen to have a name, it's likely people aren't familiar with the official name since it's typically not how they give directions. If you're in a rural area, you're definitely going to need to pay attention to landmarks and have a sense of distance measured in meters, since that is how "addresses" are often provided.
Because of the lack of signage and the lack of accurate maps, everything we read in the run up to our trip said to get a GPS. Both Heather and I are fans of old-school maps, so I wasn't sure how having a GPS was going to go. We decided to rent one on our first trip here and, unlike the experience of others, it was awful. Due to Heather's continuous arguing with the magic lady inside of the Garmin, we decided to lock it in the glove compartment and use our maps. Seeing Heather that frustrated reminded me of the time my parents were lost after following directions from a GPS device. My Mom threatened to kill two birds with one stone by simultaneously silencing the Garmin and my father via smashing the Garmin on his head (I said they're still married after all of these years, I didn't say it was a perfect marriage). For us, we concluded it made sense to actually have a directional understanding of where we were rather than listen to a machine. Whether you want to rent one might depend on (a) how much you use it in your home country (b) whether you have a good sense of direction and (c) how often you yell at inanimate objects.
Costa Rica is near the equator and doesn't follow daylight savings time. As such, the sun rises at about 5:30 am and sets somewhere between 5:30 pm and 6:00 pm all year long. This means that it always gets dark early. Because there is less development than a place like the U.S. and because even where there is development people pay attention to their use of electricity due to the expense, when it gets dark here, it is dark. Since owning a car is cost-prohibitive for most people (I'll address the reasons why in a future post), they commonly walk or ride bikes. Unfortunately, this combination of factors results in scores of people walking and riding bikes in complete darkness on winding highways.
To be clear, I don't mean they are in the bike lane or on the berm on the side of the road. I mean you can be going 55 miles an hour on a meandering road in total darkness and happen upon a mom pushing her baby in a stroller, a dad on a bike with one kid on his lap and one kid on the handlebars, or a guy on a horse. By the way, just because these children are in precarious situations, don't think for a second that the culture doesn't value children. I don't know that I've been anywhere in the world that seems to be nicer to kids. Moreover, just because Heather researched car seats for months before we had Atticus and re-secures him each time after I put him in the car doesn't mean he is loved any more than these kids. It just means we have a culture in the U.S. that is safety-focused. Bear in mind, it wasn't always this way. My parents let me bounce around all over our Volkswagen Beetle as a toddler while we drove on the autobahn in Germany. If we had wrecked, I would have gone flying through the windshield. And I'm pretty sure the day my sister was brought home from the hospital after being born, my parents put her on my mom's lap in the front seat of our car. The point is, it took time for the U.S. to develop the safety standards it has, so it's not fair to make a moral judgment about another culture exclusively based on this. Having said all of that, it is a miracle that 1,000 people a day don't die in traffic related fatalities here.
As for the paved roads themselves, I never realized how much painted lines and reflectors mattered until driving in Costa Rica. Operating a vehicle at night on a zigzagging road with no lines or reflectors, with scores of pedestrians and cyclists seemingly vaulting in front of you as if you're part of a morose video game, is terrifying. Throw in the fact that vehicles constantly speed and pass on blind curves, and you've got a pretty treacherous scenario.
I haven't even gotten to the rain yet. Costa Rica essentially has 2 seasons, wet and dry. We've been here during both. On our first trip, we picked up our rental car in San Jose and began our journey. Five minutes into having the rental car, we saw a wreck. We continued on our way to Tamarindo in a torrential downpour. As we navigated the roads, it felt as if we were constantly on narrow bridges with no guard rails. For drainage purposes, each side of some of the roads drops off in the sharpest, steepest, deepest manner you can imagine. To call them drainage ditches doesn't accurately convey how severe they are. We don't have a good picture to show because we were too focused on trying not to die. Heather and I wondered out loud how often people wrecked on these roads with such precipitous drop-offs and no guard rails. We got our answer as we went around a bend and saw an 18 wheeler on its side in a ravine.
If you survive the paved roads without injuring yourself or someone else, then you may still have to contend with gravel, dirt, and partially-paved roads. I don't know how to precisely describe the potholes on some of these roads. In fact, calling them potholes doesn't do them justice since the holes are nowhere near the size of pots. I'm going to refer to them as baby pool holes, since they're closer to that in both width and depth. They can go on for miles, slowing you down tremendously, while wreaking havoc on your suspension.
Because it gets its share of rain and because of its topography, Costa Rica has an abundance of streams and bridges (many of which are single lane). Depending on where you are, you might have to cross a stream with your vehicle. Also, depending on where you are, a bridge or road could very well be washed out. A bridge was washed out on our first trip here and we had to traverse back roads to reach our destination. Also, when we arrived here in June, there was so much water on the road that led to our house, we thought we were going to have to stay in a hotel that night. The water looked deep, but we weren't sure how deep. Then, we observed a guy walk his bike through this newly-formed river and it came up to his knees. Our decision to turn around was validated when we watched the car in front of us attempt to make it through and get stuck. Fortunately, friendly Ticos helped the driver push his car out of the water.
If you feel like you can handle all of the above, then you might consider renting a car. Whether you need an SUV and/or 4 wheel drive depends on where you are going to go. If you're simply going from San Jose to Jaco or Manuel Antonio, you can get by with a small sedan. If you plan on going to more remote locations, then you'll probably need something with the clearance of an SUV. Unlike the U.S., there are a lot of manual transmissions here. I like them. I think they are better on gas, give you power when you need it, and reduce stress on your brakes. If you can't drive one, learn. If you still can't, make sure you clarify with your rental company that you want an automatic. Also, be ready to drive makes and models you might not have ever heard of.
Vehicles are extremely expensive in Costa Rica and rental rates reflect that. Depending on the size you need, the various insurances you accept, whether you rent extras like a GPS system, and which rental car company you choose, the cost could easily exceed $100 per day. Obviously, it's best to shop around and also important to have an understanding of what coverages your credit card might offer. Make sure you clarify whether the quote you receive includes all of the insurance and taxes. If you get a quote from an online source like Orbitz or Travelocity and the price seems really reasonable, then it probably does not include the mandatory insurances. Also, clarify whether there is a charge to pick you up at the airport.
If you're not familiar with the concept of a "Collision Damage Waiver" (a/k/a "CDW"), now is the time to get familiar with it. This is insurance of sorts for damage to or theft of the vehicle. You can save a few bucks by proving to the rental car company that your credit card already covers the CDW. You can read the details about it in your Guide to Benefits document you received from your card or you can call your issuer prior to booking the rental car and ask them for details about the CDW coverage they offer. Ours provided reimbursement for damage due to collision or theft up to the cash value of the vehicle.
I can't stress this next point enough. To my knowledge, depending in part on the insurance you choose from the rental car company (some of which is mandatory), every company here holds a large amount on your credit card as a deposit above and beyond the cost of the rental until you return the car. If you just accept the base insurance, they might try to hold a deposit for as much as $3,000 (that is not a typo). When we've rented, the deposit amount has ranged from $750-$1,500. Instead of getting their most expensive insurance option (which is added to the per day price), we've opted to pay a little more per day and to use our credit card's CDW instead of purchasing theirs.
If you're someone coming here with a card that has a credit limit of $3,500, then you literally could lose access to all of your available credit in one transaction. Even if the deposit is a mere $1,500, it still can put a dent into your available credit. Assuming a rental car cost of $500, you could have a total of $2,000 tied up before you even leave the rental car parking lot. Depending on the cost of your hotel and other activities you intend to do on your trip, you could exceed the available credit on your card fairly quickly.
Another warning that I didn't initially heed, but that you definitely should heed, is to drive with your passport in your possession. This is a tough one for me. Given the fact that theft is a known issue, traveling everywhere with my passport increases the likelihood that it's going to get lost or stolen. Some visitors who are going to be in Costa Rica for an extended period often copy and laminate their passport, carry that copy around, and then put the original in a safe. Aside from the fact that I don't find this very practical, not every police officer will accept that laminated copy.
We had lunch with someone two days ago who had a friend get pulled over at a random checkpoint. The officer asked for his passport. He didn't have it on him. The officer then "fined" the person on the spot by removing colones from his wallet as the driver pulled it out to show his license. That story scared me a little. So today, when I took Atticus to summer camp, I made sure to have my passport with me along with my license. Lo and behold, there was a checkpoint, and I was stopped by la Policia. They didn't ask for my license and registration. The only thing they asked for was my passport. I'm honestly not sure how that would have gone if I didn't have it on me.
I've traveled to a lot of places internationally without ever feeling the need to have a car. But so much of what is beautiful about Costa Rica is outside of San Jose. It's easier to visit volcanoes, mountains, cloud forests, and beaches on your schedule with a rental car. So, even with all of the potential pitfalls mentioned above, I would recommend renting a car in Costa Rica if your plan is to do anything other than sit on a beach (which is a perfectly acceptable way to spend your vacation or sabbatical). If you've had experiences renting a car in Costa Rica (or in other countries), I'd love to compare notes.